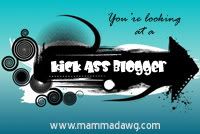 Not to brag, but
52 Faces
recently
awarded me Kick Ass Blogger status. Isn't that
freakin
' fantastic? I've ordered the tiara, and the
pleather
jumpsuit with "Kick Ass Blogger" bedazzled in pink rhinestones across the back is on its way.
Now I get to do my part to pass along the feeling of pride that is currently swelling my head.
The rules:
"Do you know any
bloggers
that kick ass?Maybe they've got incredible, original content. Or they're overflowing with creativity. Is it someone that helps you become a better blogger? Or a
bloggy
friend you know you can count on? Or maybe it's someone who simply inspires you to be a better person... or someone else who sends you to the floor, laughing your ass off.Whatever the reason may be, I'm sure you know at least a couple of
bloggers
that kick ass. Well... why not tell 'em so?LOVE ON 'EM
Choose 5
bloggers
that you feel are "Kick Ass
Bloggers
"
Let 'em know in your post or via email, twitter or blog comments that they've received an award
Share the love and link back to both the person who awarded you and back to
www.mammadawg.com
Hop on back to the
Kick Ass Blogger Club HQ
to sign Mr.
Linky
then pass it on!"
I nominate:
Mamikaze
: she has challenged me to put more effort into this blogging thing. AND, she was the one who introduced me to Twitter (not sure if I should thank her or curse her for that new addiction)
Mrs. Tantrum:
As sassy as she is
gorgeous
, I love her blog.
KazasPlace
: Great blog, funny AND one of the nicest people I have never met face to face.
Mrs. F
: Funny, honest and leaves comments with the best of them! Thanks lady.
Mara
: I'm addicted to her writing style. And her boys make for great material.
Thanks for kicking ass. If you need a tiara or a jumpsuit, let me know.